Home > News
The language of success
By Xing Wen | China Daily
Updated: Nov 14, 2018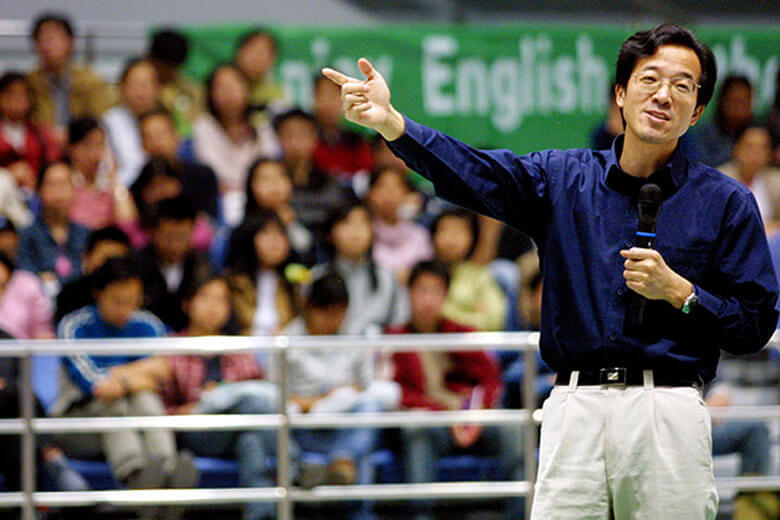 Yu Minhong, founder of New Oriental Education and Technology Group Inc, gives a speech in 2004 in Hangzhou, encouraging the ten thousand audience members attending the event, mostly young people, to master English for their better futures. [Photo provided to China Daily]


Celebrating its 25th anniversary, Chinese education giant New Oriental continues to fulfill its mission to imbue Chinese English learners with a global outlook, independent character and a sense of social responsibility, Xing Wen reports.

n 1972, Dong Jianping, a 16-year-old junior middle school dropout began working as a truck driver at Liaohe Oilfield in Northeast China's Liaoning province, but his career took an unforeseen turn when he demonstrated English skills quite by accident.

A new career path opened up to him after he surprised his boss and co-workers by explaining the English introduction to the manual of a German-made vehicle as they were unsuccessfully attempting to repair its cooling system. After that, his boss recommended he pursue mid-career studies, which led to his promotion and eventually saw him become a branch manager of a China National Petroleum Corporation office.

"There were few people around me who could speak or read English then," says Dong, adding that in the 1970s before the reform and opening-up, Chinese people lacked awareness about the importance of learning English and employing such resources.

During the "cultural revolution" (1966-76), a key source from which he could gain a basic grasp of English was abandoned bilingual books which he bought from salvage stations at a price of 0.4 yuan ($0.06) per kilogram. "I managed to read such novels as The Adventures of Huckleberry Finn and Uncle Tom's Cabin, even though most of them were incomplete, missing covers, or missing their beginnings and endings," recalls Dong.

Dong's experience may seem unimaginable for today's English-language learners in China, who embrace a wide range of rich learning resources, have free access to numerous learning tools and enjoy ample opportunities to travel, study or work in English-speaking countries.

This November, Chinese education giant New Oriental Education and Technology Group Inc, a private company with its roots in English-language teaching, is celebrating its 25th anniversary as a milestone in its remarkable growth. The company-which was founded in 1993 and later grew to become the first private company in China's education industry to list on the New York Stock Exchange-has stayed ahead of the latest trends in China's education system and has tapped into the ceaseless fervor among Chinese youth for learning English.



Young people queue up in a long line in the 1990s, to register for a course at New Oriental in Beijing. [Photo provided to China Daily]


Upgrade in resources

With the tremendous enhancement of social and economic development in the country over the past 40 years, English-language learning materials have become more enriched and the ways in which people learn English have been transformed.

In August 1978, at a two-week symposium on foreign-language education held in Beijing, Liao Chengzhi, the then vice-chairman of the Standing Committee of the National People's Congress, addressed the significance of cultivating qualified people who were good at foreign languages to support the country's development. In the same year, the reform and opening-up policy came into effect across the country. All this sparked great enthusiasm for English learning among legions of young Chinese people.

Among them was Zhou Chenggang, the current New Oriental CEO, who chose English as his major when he enrolled at Suzhou University in 1980.

"We wanted to know more about the outside world, and the language just offered us a window," Zhou recalls. "I used to accost foreigners on the streets of Suzhou, seizing each chance to practice my English."

Students used to form long queues outside Xinhua bookstores to buy a Chinese-English dictionary, Zhou says, and apart from reading English magazines and novels, some of his schoolmates even used shortwave radios to tune into overseas programs from the BBC or Voice of America.

"It would delight us when we could understand some of the content," he says. "The access we had to learning resources was really limited."

In 1982, Follow Me, a series of crash-course English-language programs produced by the BBC hit Chinese TV screens, which provided a refreshing audiovisual method of learning for Chinese students of English.

After four years of study in Suzhou, Zhou became an English teacher at the university and spent the following 11 years there. In 1996 he resigned and decided to further his studies in Australia after noticing the language gap between himself and native English speakers.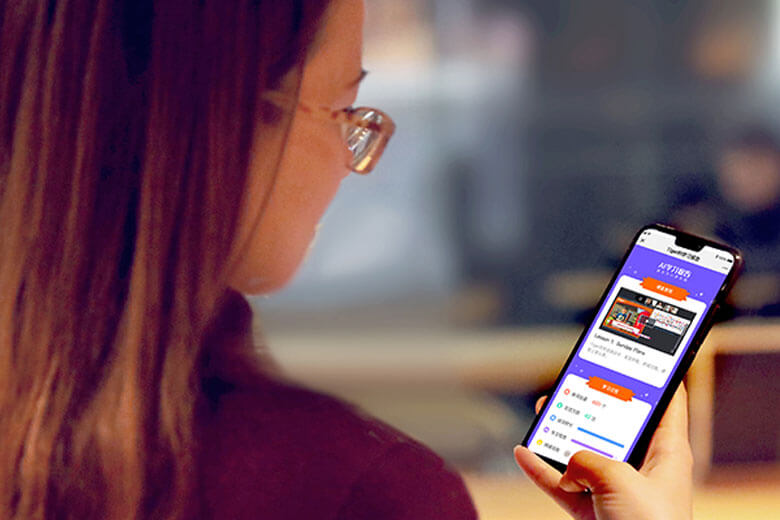 A mother of a student checks the study report of her child with an AI application developed by New Oriental and its partners. [Photo provided to China Daily]


New tech force

Dong, the truck driver-turned-manager, has long possessed a passion for the language that has influenced his son, Dong Zhongli, who was born in 1985. He began to use a tape recorder to listen to English recordings in his early years and achieved high scores in English exams throughout his student years during the 1990s.

In the late 1990s, the growth of internet use for English-language learning stimulated fledgling distance-learning platforms where video lessons were recorded and broadcast online, providing people with a quality alternative or supplement to on-the-ground courses.

To prepare himself for the College English Test, Dong Zhongli "found it useful to watch online courses" and purchased an online video course in 2004 offered by Koolearn, an online education provider affiliated to New Oriental.

A decade later he was pleasantly surprised when he became a star teacher at the company, teaching livestreaming lessons online to help thousands of university students pass their CETs. He also uses the Chinese social-media platform, Sina Weibo, to share short videos in which he explains individual language points in an engaging way that has earned him over 400,000 followers. Now an internet celebrity, Dong Zhongli's enthusiastic teaching style continues to gain popularity among live-streaming viewers in the field of English-language learning.

"In the age of the information explosion, idolizing a teacher is an efficient way to motivate students," he says.

In recent years, New Oriental has actively ridden the wave of applying artificial intelligence technology to the field of education by cooperating with AI service providers, such as the Molistudy startup.

AI technology is set to revolutionize the way in which Chinese people learn foreign languages, according to Molistudy founder Zhang Haixia, 32, a graduate from the School of Software and Microelectronics at Peking University. Zhang says that with the help of AI teachers, people will be able to grasp the basic rules of English in a relatively short period, receive personalized study plans and enjoy one-on-one interactive classes.



Zhou Chenggang, CEO of the New Oriental Education and Technology Group Inc, which now opens courses for every subject. [Photo provided to China Daily]


Bridge builders

In the past few decades, Chinese people's reasons of English learning has been changing, as Yu Minhong, New Oriental's founder, observes.

"In the late 1970s, the majority of English learners studied the language because of the requirement to pass the gaokao (college entrance exam) or for their own personal interest," Yu says.

From the mid-1980s onwards, Yu says, the main driving force for Chinese learners was to pass the TOEFL or GRE exams to enable them to study abroad, which fueled the development of many budding English-training service providers, including New Oriental, which seized this opportunity to take off and expand.

"In the 1990s when US universities offered many scholarships to Chinese students, those who had a good study performance but came from a modest financial background strived for the chance to study abroad," says Yu. "And they are now established in a wide range of industries."

Zhang Li, former director of Beijing International MBA at Peking University, was one of the students in the late 1990s who yearned to further his education and study in the United States, although, like many others, he had little idea how to apply to a university or for a scholarship. For this reason, he paid to take the GRE class offered by New Oriental to find the answer.

He describes a common scene in the GRE class: In a tiny, crude classroom filled with hundreds of students, the teacher explained the GRE papers meticulously, meanwhile encouraging students to pursue their dreams regardless of their backgrounds. Although the students' clothes were soaked with sweat, their passion still ran high.

"This kind of atmosphere really pumped me up to realize my dream of traveling abroad," says Zhang. "English was like the passport to my dreams."

Recalling 25 years of the company's development, CEO Zhou Chenggang says: "New Oriental has always served as a bridge builder, sending out students and welcoming them back."

The company, which started offering English classes to help students pass exams, is now looking to provide Chinese students with quality educational services across every subject to promote their all-around development.

"To achieve a high score in TOEFL exams matters, but after students arrive in a foreign country, they will recognize how important their liberal education is. That's why we have developed a set of liberal arts curriculums for the young generation," says Zhou, adding that they hope through lifelong learning, that young people could turn into talented people armed with a "global vision, independent character and a sense of social responsibility".

Xu Chen, 22, a former student of New Oriental and a postgraduate from the University of Melbourne, agrees with Zhou's idea. "When studying abroad, fluency in English is the basis of everything, but definitely not your core competence."

"I learned English at a very young age, studied in a foreign country and observed people's lives in different cultures. These all helped me to broaden my horizons, before I was able to make an informed decision about my future," says Xu.

Contact the writer at xingwen@chinadaily.com.cn